In order to share research/technology seeds with society, the division is working on issues requiring multifaceted research and development activities for commercialization, such as the development of plant-based biomaterial production technology beneficial to human health, the development of a smart production system for high-value added vegetables, etc., in collaboration with relevant organizations and private companies inside and outside Japan.
つくば機能植物イノベーション研究センター(T-PIRC)は、植物遺伝子研究で高い実績を有する遺伝子実験センター、フィールドを生かした農業生産の先端研究に取り組む次世代農業研究部門(T-PIRC農場)の機能と世界最先端の研究実績を誇る産官学の研究機関が集積するTsukubaの立地を最大限に生かし、循環型「基礎-応用-開発」研究を通じた"シームレスなイノベーション創出"と"空間共有型産官学協働研究体制の構築"を目指しています。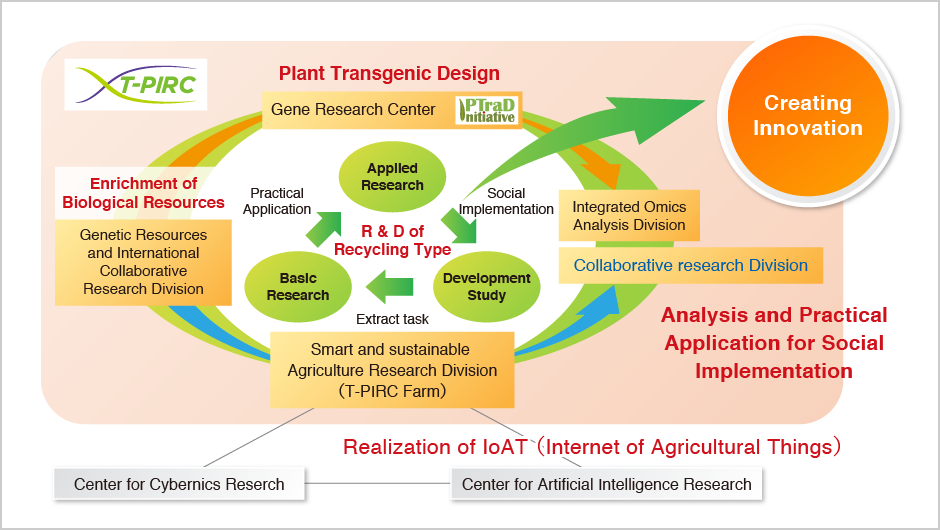 Special collaborative research project
currently undertaken at T-PIRC
Sanatech seed joint research project for the development of genome- edited plants (Since Oct. 2019)

【Main research contents】
Development of crops with beneficial breeding traits by applying genome editing technology and exploring novel genes.
【Topic】
A part of this project is carried out with 'Tsukuba International Strategic Zone', 'Cross-ministerial Strategic Innovation Promotion Program (SIP)' and 'Program on Open Innovation Platform with Enterprises, Research Institute and Academia (OPERA)'.